Soda Pop.
My friend posted this picture on facebook: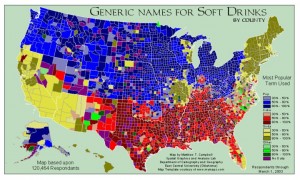 And I got to wondering about how the US cities would overlay, so I spent the 5 minutes to create an overlay.  Here's the result: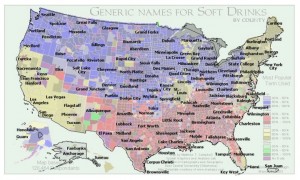 Being from Western Massachusetts, I most certainly say "Soda."  Living in Southern California, I still say it.  :)
This explains why no one could ever agree on this while I was going to school at RIT in Rochester, NY, as it's right on the line.  Other locations of note are St. Louis, Green Bay, Indianapolis, Salt Lake City… and where else?
So, what do YOU say?
—–
*Writing this post reminded me of a video I saw MANY years ago, in the early days of the Internet, before youtube. One of them, was a video of a guy drinking his first "soda pop" and I believe it was set to "Bitch" by the Rolling Stones. It may have been directed in a "Tarantino" style. It may have been called "pinecone." My memory is surely questionable, but if any readers know what I'm talking about, please forward me along to the video as I couldn't find it on youtube!